In Feb. 2022, "New and Rare Words" Collected by Helen M. Johnson from Hemacandra's Triṣaṣṭiśalākāpuruṣacaritra was published. This publication presents part of the research results within the framework of the 2-year (April 2020 – March 2022) project "A Pilot Study for the Creation of a Jaina Hybrid Sanskrit Dictionary" (Principal Investigator: Yutaka Kawasaki) under the "Cooperative Research in Asian Studies" program of U-PARL.
The Sanskrit language used by Jains often deviates from the normative grammar and commonly employs peculiar vocabulary that is not encountered in other written sources and phrases that can be found only in Indian lexica. While a few eminent scholars have continued collecting Sanskrit vocabulary peculiar to Jaina sources and reporting on grammatical phenomena deviating from the normative grammar, as compared to the ample research results on the so-called Buddhist Hybrid Sanskrit which also deviates from the normative Sanskrit, research on the Sanskrit language used by Jains — Jaina Sanskrit or Jaina Hybrid Sanskrit — still remains underdeveloped even today. Particularly, the absence of grammar books and dictionaries of Jaina Sanskrit presents a great obstacle to reading and comprehending Jaina sources written in Sanskrit.
This publication presents the first step toward overcoming such situation by aiming to compile a dictionary of Jaina Sanskrit . In this monography, they have implemented the following: they consolidate and rearrange in Sanskrit alphabetic order "New and Rare Words" collected in appendices to each volume of the English translation by Dr. Helen M. Johnson (1889-1967) of Triṣaṣṭiśalākāpuruṣacaritra by Hemacandra. In addition, they tacitly correct apparent typographical errors supposedly made by Johnson herself and added various notes. As an appendix, the monograph includes the chart of verses in the Triṣaṣṭiśalākāpuruṣacaritra corresponding to verses in Hemacandra's Yogaśāstra and his auto-commentary.
This publication will also be available as a PDF file.
March 9, 2022
"New and Rare Words" Collected by Helen M. Johnson from Hemacandra's Triṣaṣṭiśalākāpuruṣacaritra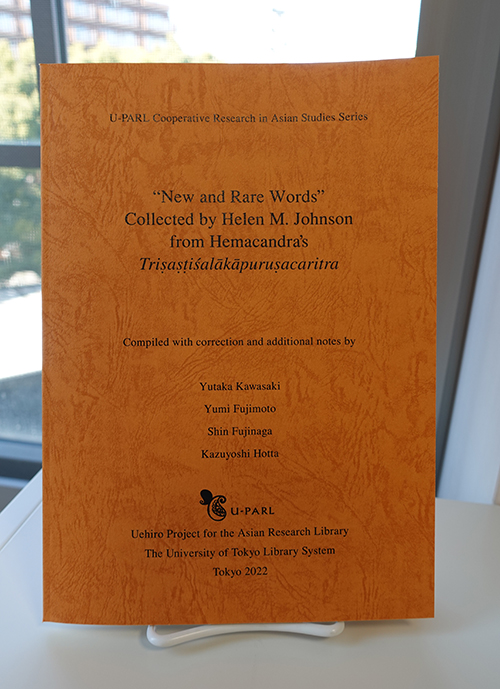 Yutaka Kawasaki
Yumi Fujimoto
Shin Fujinaga
Kazuyoshi Hotta